I am not a medical doctor or a researcher on the field, but let me make some predictions.
First infected patient who was not in China recently (meaning infected abroad) will appear on this thursday, 30th of January. (ack: it was on 28/01 in Germany, but 1st case in US was 30/01)
WHO PHEIC declares on friday ( public health emergencies of international concern) [31/01] (ack, it happened on late 30/01)
Within two weeks (meaning maximum 7/February) quarantine within China will be revoked. Maybe traffic links between China and other countries will be cut instead
First Hungarian infected person acknowledged on 01/Feb or so
Hungary will mask some data instead of clear info distribution and our rate will be 1:100
China might have manipulated real infection numbers in the range 10-100 times
My original consideration was the following: if there was only one victim on 01/Jan and we have 1000 victims on 21/01 , then it is like 10x exponential growth each weak, which is 1,4x growth each day. Recent data aligns with that: 800, 1300, 2000, 2800 victims on recent days, and the same growth rate on death numbers.
However, if we consider originally China misled communitiy with fake numbers and first patient was identified like 17/december/2019 and we still calculate with 10x rate with each week then we get like 100,000 victims as of 21/01, which is close to video based info from nurses in the area.
On the other hand, If I would masquerade the fact the we lied about number of victims, I would report much higher rate of new infections to hide the lower rate of new infections thus I could soon get out of the trap and let the reported number of victims close to the reality. So, e.g we have a daily 1,4 rate for reports, but in the reality it is like 1,2 only. HKU researchers gave number of victims around 25000, and doubling time like 6 days, which is like 1,12x growth each day.
I made a short calculation. Left, a model of growth with 1,4 rate, second column HKU number of infections with HKU 1,12 rate, date, last column, number of infected with an exponential model of 1,2.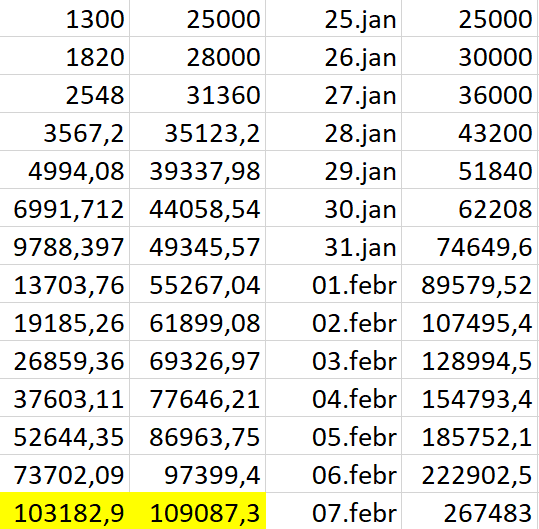 As you can see, second model will get close to the reality at 07/02. If the growth rate is basically faked to be 1,4x daily only by calculations, then around 07/feb or gradually until then we will see decline of the growth rate. However, growth rate might decrease also due to the intervence of the events, like informing people, quarantine, etc, This will also surely have some delay effect so growth rate in reality should be already a bit lower, but will be visible only with a real delay, like 2 weeks. Hence, my prediction, around 07/feb we'll have an official number of 100k infected and a reduced growth rate with press will consider as "epidemic lost strenght" which won't be true and after another two-three weeks we'll see a rapid rise of the epidemic again…. that time (08/march) reaching the 1 million infections.
Of course, in the meantime, anything can happen, and again, I'm not an expert on epidemics, I just want to log my guesses to be able to later revise if I was good looking into the crystal ball, or not.
In fact, based on my thoughts I made predictions to our fellow workers, and that was that 20/feb is a markable milestone when we willl understand this is serious, the next guess was that 01/march is the time where government should make serious decisions on the coronavirus spread, but they won't especally to schools and universities. my last prediction , in oral and on the whiteboard was that on 15/03 we will end closing up or schools and universiitest.
That's it, my predictions were all so precise that i'm frightened, but it was based on the original basic information available on 24/01 or around.
Great, what else you can predict. Sorry, my ability to predict anything cannot possibly cover next stepts. from now on chaos at some sense wiill aredict, and simple steps cannot be predicted. I hope all will be allright.
I wrote on the whiteboard of Ukatemi and Crysys Lab 3 dates.
feb 20 – we will understand that this is unstoppable and serious [tick, some days later it broke out in Italy]
1th of march – Hungary should close schools and universities, but they won't [tick, did not done it]
15th of march – Hungary will close done schools and universities [tick, universities stopped 12/03, schools 16/03]
I'm not happy that any of my predictions was so much accurate.