Pár éve vett szardínia került a kezembe: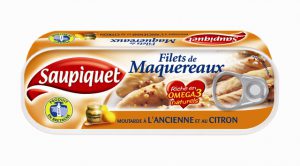 Egyszerűen fantasztikus. A makréla olyan, mint egy jó makréla, a szósz viszont fantasztikusan üdítől, friss, citromos és magos mustáros. Még így, hogy lehet, hogy le is járt a termék szavatossága, tökéletes ízélmény. Külön csoda, hogy nem túl sótlan, és a szósz miatt felesleges citromozni is.
Semmi negatívum, legalábbis nem bírok felidézni semmit. A szósz maradékát kikanalaztam. Mindenki vegyen ilyet, ha külföldön jár.
It's simply fantastic. Not just a superb fish, but in addition, it has possibly the best sauce I've ever met for sardines. Mustard and limon with enough salt and still a fresh taste possibly years after the production. I recommend everyone to buy one and taste. Current rank: No. 1.
Állag: 9/10
Íz: 10/10
Ár: ?